Meiji Jingu is a Shinto shrine, in a large park, in the middle of Tokyo.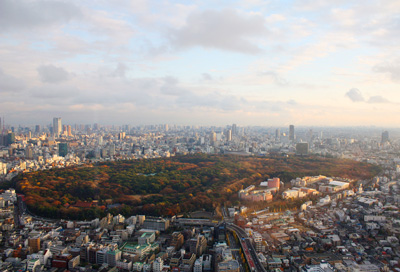 Not that Tokyo really has a "middle" but the effect is the same – one minute you're walking past Harajuku Station where all the freaky fashion kids hang out, and the next minute you're standing in front of a giant wooden gate in a forest. Like this guy…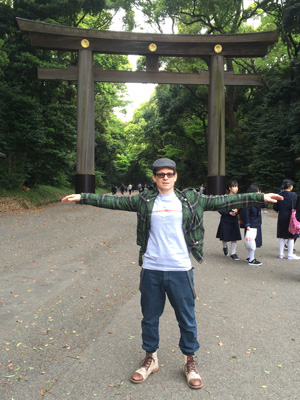 The gate is called a torii, which means birdhouse. It's a passageway from the mundane to the sacred. Coming straight from Tokyo's teen fashion hub, the effect is stunning. Time to leave it all behind and get your zen on.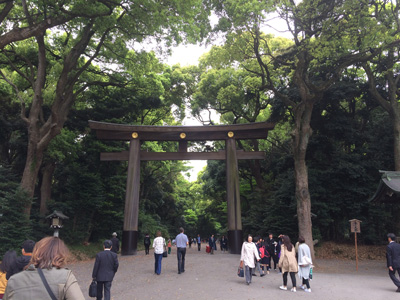 A wide pebbled path leads through a lush forest filled with Japanese maples. There's a guy who rakes the rocks, and another guy who sweeps the leaves off the path. Constantly. I don't know what they call him in Japanese but I call him "Leafman" and he has mad skills.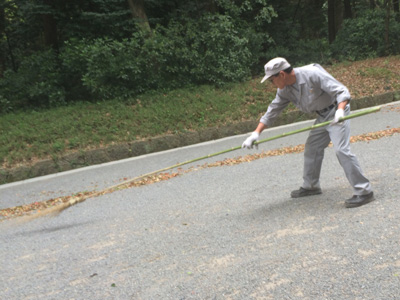 On one side of the path is a huge collection of sake barrels. Sake is called wine but it's actually brewed like beer. Go figure.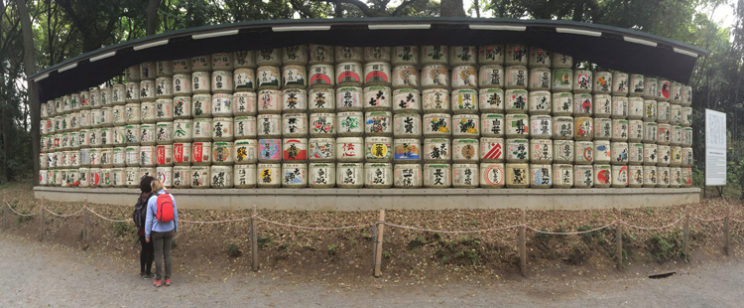 You keep going down the path and come to a place where you wash your hands and mouth, cleansing yourself and focusing. Then you walk on to the shrine. The outside has huge wooden doors…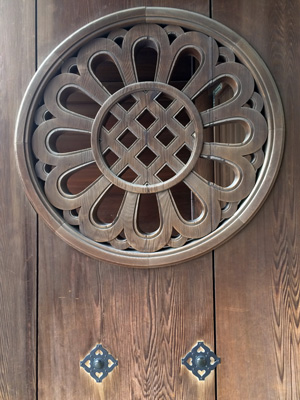 Through the doorway you see the shrine itself…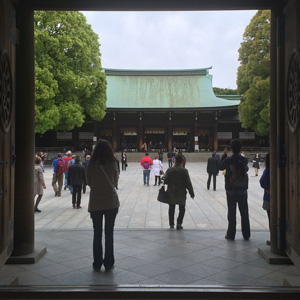 It's actually a collection of buildings…

And a prayer wall, to which you can add your prayer…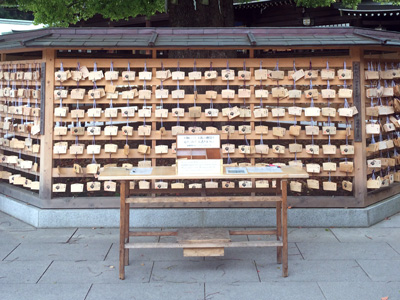 Pictures are forbidden at the main shrine itself. There's a giant taiko drum on the right, and a place to stand near the middle. You drop some coins into the collection crate (today it was for the Kyushu earthquake victims). Then you bow twice, clap your hands twice, and bow once more. If you close your eyes you can feel the world turning. At least, that's what happened to me. There's a lot of mojo in Meiji. And even the occasional Japanese wedding…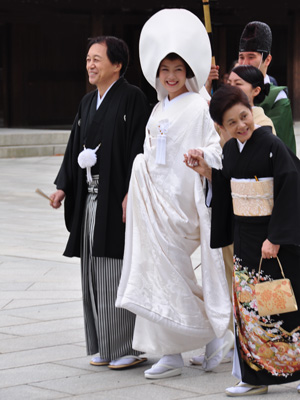 Walking out, I was struck with just how hard it has been for Tokyo to keep this part of its culture. The shrine was destroyed in World War II and they rebuilt it. Since then, Tokyo has become a fast-paced city, a crazy mix of cultures from all over the world. Many aspects of the West have been embraced, and in many ways the Western style is overtaking their culture. Signs of American and European cultural adoption and imitation are everywhere. But authentic places like Meiji Jingu survive as a testament to the old ways of this proud island people.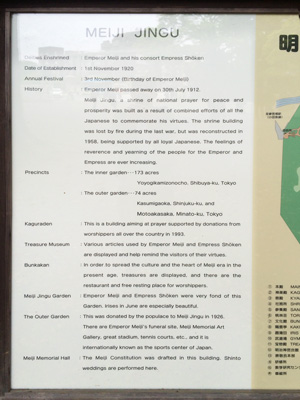 Heading back out of the forest, you can see tall buildings framed in the gateway. Back into the world of the mundane…