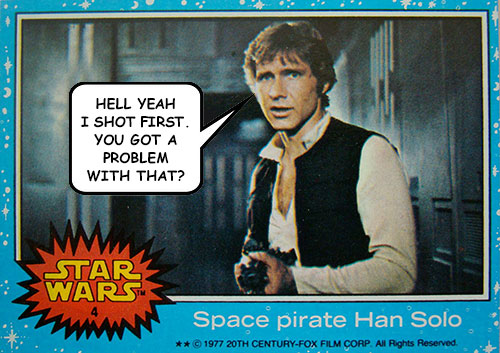 When I was a kid I  wished I could be like Han Solo—tough, cynical, devil-may-care… Now that I'm an adult(ish) I'm pretty good with the cynical part, but as for the rest? Sadly, I'm more or less just a "nice guy". I mean, I was in rock bands and punk bands and all that, but I was the nice guy punk. Which is maybe a nice way of saying poser? Ouch! Whatever.
Even when I was a kid, I knew I wasn't the tough guy type. My dad had the Beatles' Let It Be and I thought John Lennon was just the coolest. But somehow I knew I was always more on the McCartney end of the spectrum. Or maybe Ringo.
The point is, we can't all be Han Solo. Maybe that's just how it works—there's only so much bad-assery to go around, and the rest of us have to be the guy in the band who doesn't bang the groupies. You are what you are. Even if you don't wanna be.
But damn, I always wished I was a bit scruffier.
"Why, you stuck up, half-witted, scruffy-looking nerf-herder…"
So here's to all the nerf herders… May you be as scruffy as you can.