Kanpai is Japanese for "cheers!" And we kanpai'ed the hell out of Tokyo. Seems like it's always Suntory time somewhere in this town…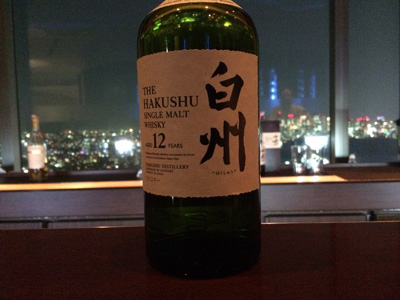 Japanese whisky is a big deal. Suntory is the most popular brand, and the oldest; they started making whisky in 1923! They make two single-malts — Yamazaki and Hakashu — and both are excellent. They also make a bunch of blendeds which aren't too shabby either. If you're going blended, the craze right now is what they call a haibōru, or highball: whisky and soda with a slice of lemon. Yes, they say "high-BALL-oo" but pronounce the L's like R's. Seriously.
"For relaxing times… make it Suntory time."
But then there's sake. Ahh, sake. We think of it as rice wine, but actually it's more like beer. Fermented from grain, right? Whatever, it's oishii!
It was a hot night in Shinjuku so I ordered mine cold. They brought out a chilled glass and a little box called a masu. They put the box in the glass, then poured the sake in and over the edge, overflowing about halfway up into the box. Our host said they do this to show generosity but I think they were just trying to get us hammered. I noticed a curious effect when I lifted the glass out of the sake in the box — the glass seemed to glow!

When we were in Harajuku we ducked into a tiny four-seat bar called MOCH.  They had everything from rare Japanese whiskys to Southern Comfort.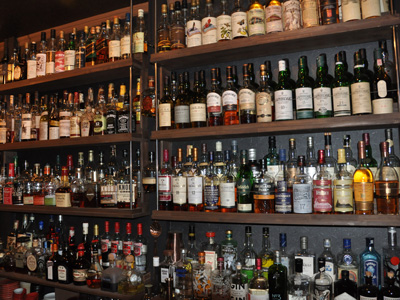 The place was tiny. Our coworker needed to stand in the doorway to take our picture.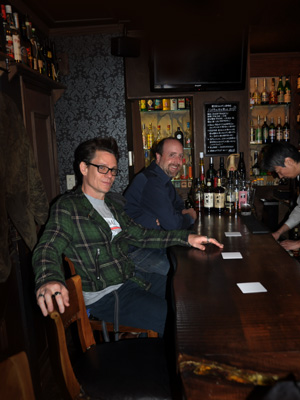 The proprietor used to work at a large bar on the other side of town but decided to open up his own little place close to home. He made little homemade snacks for us while we drank.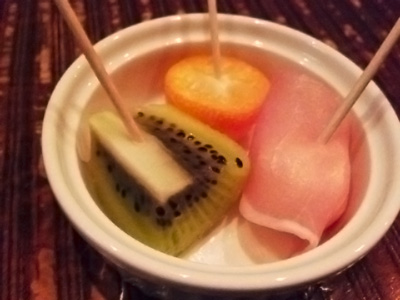 We also went to a tiny bar called JBS. I thought it stood for John's Bull Shit (arigato!) but it's actually Jazz, Blues, Soul. That's what the bartender plays from the hundreds of records that line the walls…

Hmmm, must have been Honky Night? I sent this picture to my wife and she said it looked like a Mission hipster bar. Can't argue that. Anyway, we were the last people he let in, apparently the place hits capacity at ten people. And he closed it down at midnight, to an instrumental version of Bill Withers' "Ain't No Sunshine When She's Gone."
Kanpai y'all!