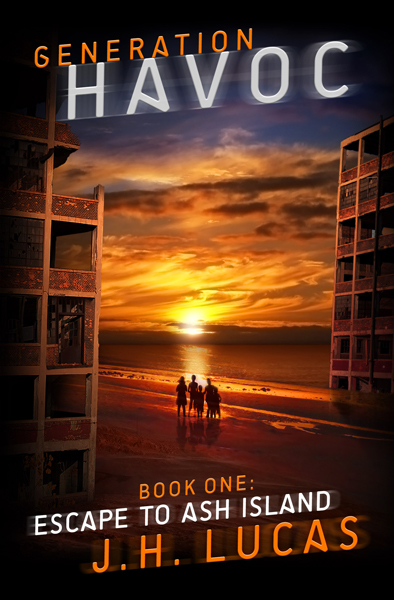 At long last, I am proud to report: my first novel is about to be published!
Generation Havoc book 1, Escape to Ash Island, debuts June 14 on Amazon!
Once upon a time, a hundred years from now,
When the city of San Francisco is covered with water,
A young inventor named Cash will travel to a mythical island…
Generation Havoc is a futuristic series that follows six young heroes as they struggle to break the Shroud's stranglehold over what was once America, as foretold in the forbidden Prophecy Song…
After humankind cloud the up-sky
And bittercolder waters warm
Three deadsons down the line
A leader slavish will be born
Book one, Escape to Ash Island, starts 100 years from now at a slave labor factory in Saharizona, where a wild-eyed, wild-haired young inventor named Cash hears about a mythical island far across the Poison Desert. He plans a daring escape with a diverse team of outcasts — Octavio, Scrounger, Huizi and Big Eddy — and soon they find themselves caught up in the mysteries of the Prophecy coming true. But the Shroud's protector, a half-human, half-mechanical menace known as the Red Enforcer, is determined to stop them, and put an end to the Prophecy once and for all.
To request a free copy of the book for review on your blog, sign up for the mailing list and tell me about your blog.
---
ABOUT THE AUTHOR
J.H. Lucas has been hooked on writing since he was a kid, when he created a comic book about a team of intergalactic superheroes who saved the universe. For more about the author, click here.